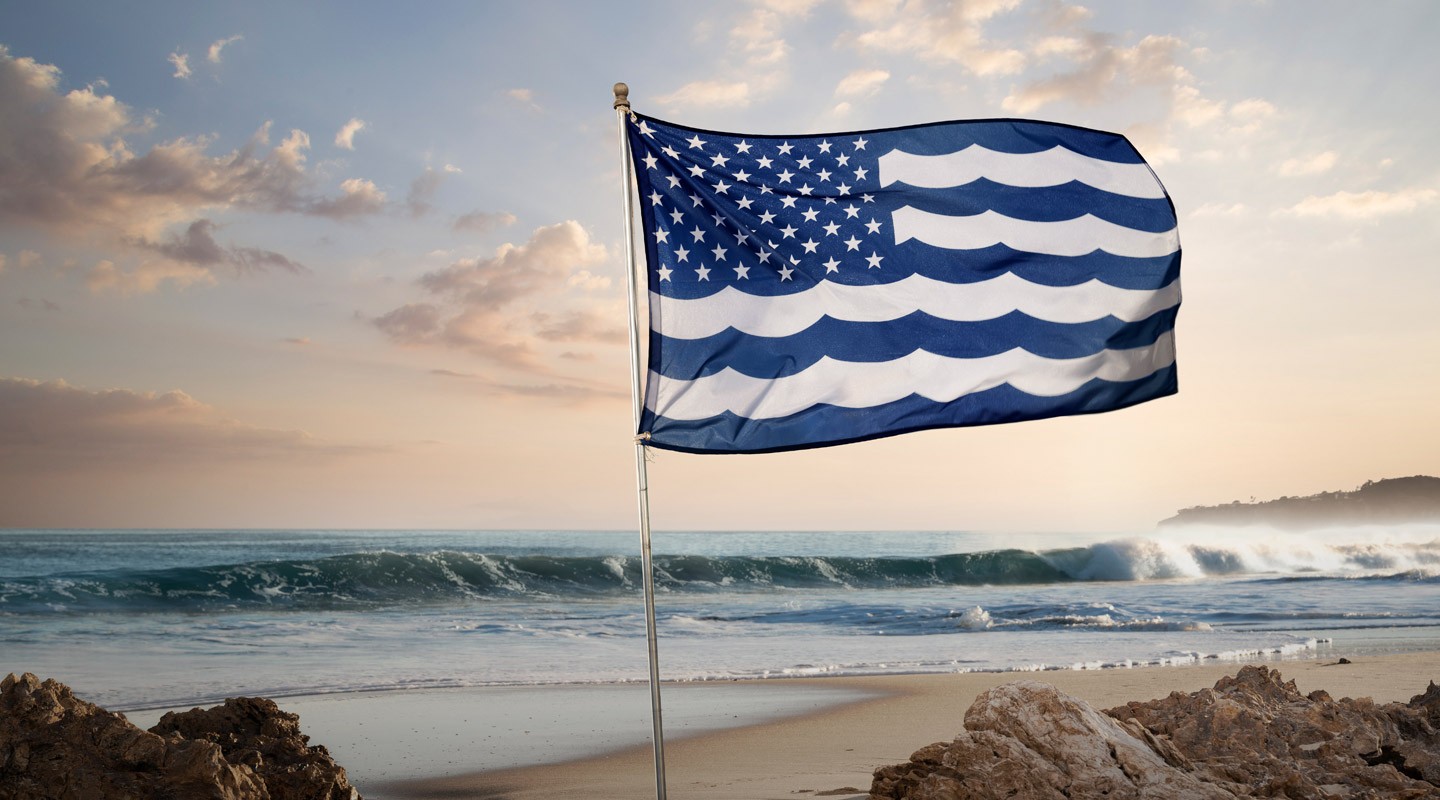 Surfrider enters the New Year inspired to protect our ocean, waves and beaches. Read about our 5 goals for 2020 and please join our efforts!
A New Year is supposed to be about optimism - a chance to rediscover our purpose and commit to an improved self and world around us. So, while problems abound for our coasts and ocean, let's not expound on them here. If you're reading this, chances are you understand the need for bold action and the solutions that must be implemented.
The good news as we enter 2020 is that citizen activism is alive and well. While politicians dither (or worse), individuals are reclaiming the narrative in the public discourse. Across the globe, people are speaking out to challenge systemic problems and inequities across society. Fittingly, Time Magazine named a 16-year-old from Sweden, Greta Thunberg, as Person of the Year for stirring the world's conscience on climate change.
At the Surfrider Foundation, we understand the power of grassroots activism. We were founded 35 years ago on the premise that people should protect what they love. Ever since then, our victories both large and small have been fueled by volunteers taking action to effect positive change. It's the power of this network that can clean a beach, test for clean water, or stop offshore drilling.
As we enter a new decade, Surfrider's network of chapters and clubs has never been stronger or more inspired to protect our coasts. Our local activism and stewardship provides an integral front line of defense from threats, while our network's vast coverage across the U.S. allows us to scale our impact by passing proactive policies at the state and national levels.
This year, Surfrider will focus on 5 goals to protect our ocean, waves and beaches. We invite you to join us in our efforts by volunteering with your local chapter or club and renewing your membership.
1) Protect Clean Water at the Beach
Water quality at our beaches is threatened by pollution, causing 20,000 health advisories to be issued each year. Surfrider pledges to protect coastal water quality by building awareness of local pollution problems and advocating for solutions. With 50 volunteer-run water testing labs across the U.S., our Blue Water Task Force will monitor over 450 beaches and perform more than 6,000 water quality tests this year. Surfrider will also wage advocacy campaigns at the local, state, and federal levels that protect clean water. This includes defending the Clean Water Act through litigation and fighting for the federal BEACH Act - a law we helped pass in 2000 - to protect the public health of beachgoers.
2) Keep Plastics out of the Ocean
Plastic pollution is one of the greatest threats to the health of our ocean. In 2020, Surfrider will pass and defend local, state and federal policies that keep plastic bags, cigarette butts, foam containers, straws and other forms of plastic trash out of the environment. Priorities include passing comprehensive plastics reduction laws in California, Maine and other states, while fighting statewide preemption laws that block local governments from taking action on the issue. Through our Ocean Friendly Restaurants program, we will register 850 restaurants to ensure over 120 million plastics-free meals. Finally, our grassroots network will remove 200,000 pounds of plastic and other trash from beaches and parks by engaging over 30,000 volunteers in cleanup events.
3) Demand Action on Climate Change
From sea level rise to extreme weather to ocean acidification, our coasts and ocean are under siege due to climate change. In 2020, Surfrider's network will demand our federal leaders take immediate action to reduce greenhouse gas emissions and help communities adapt to impacts already taking place. At Coastal Recreation Hill Day, Surfrider and our partners will meet with over 100 congressional offices and the Trump administration to push for real solutions to the climate change crisis. We will continue fighting offshore drilling and other oil and gas projects along our coasts. And, at the local level, Surfrider will advocate for community choice energy policies and work with over 25 communities to plan for sea level rise and coastal erosion.
4) Make the Coast Accessible to Everyone
The Surfrider Foundation views beach access as a universal right of all people. That's why we'll work to secure beach access on every coast so that people of all communities can enjoy these special places. Beach access is constantly being threatened, so Surfrider's network works to meet these challenges through community outreach, partnership building, grassroots advocacy and legal strategies. In 2020, Surfrider will wage campaigns across the U.S. to open new access, or protect threatened access. We will also support inclusive beach access by bringing 5,000 inland or underserved community members to visit the beach.
5) Grow the Coastal Advocacy Movement
Surfrider is the leading grassroots coastal protection group in North America and we will continue to grow and diversify our movement in the coming year. The issues Surfrider fights for – clean water, ocean health, coastal access – are not partisan issues but priorities that should be embraced by all interests. In a time of political division, a grassroots approach is exactly what's needed to protect our coasts for now and the future. That's why Surfrider will continue to grow and support our grassroots network in the U.S. and beyond.
We invite you to join us in our efforts to protect our ocean, waves and beaches by volunteering with your local chapter or club and renewing your membership.