05 • 21 • 2021
2020 Clean Water Report Released
The Surfrider Foundation is pleased to release the annual 2020 Clean Water Report in time for Memorial Day and the kick-off weekend of summer for many communities across North America.
The Surfrider Foundation believes that everyone deserves access to clean water to surf, swim and play in. This was particularly important during the COVID-19 pandemic, when other recreation options were limited. During 2020, beach use soared across the country. In some states it was up by 200-300%! With more people hitting the beach, Surfrider's network of coastal defenders knew it was important to continue to protect our water resources and ensure that all Americans have access to water quality information to protect their health.
The 2020 Clean Water Report summarizes and highlights the work of the Surfrider Foundation's Clean Water campaigns and programs. Despite the challenges presented by the COVID-19 pandemic, Surfrider chapters showed flexibility and determination to adapt their usual approaches to continue to bring their communities together to protect clean water and healthy beaches.
The Blue Water Task Force (BWTF) is Surfrider's volunteer water quality monitoring program that provides critical information to protect public health at the beach. Chapter water testing programs are designed to fill in the gaps and extend the coverage of state and local agency beach programs so there is more information available to inform safe recreation in coastal waterways. Visit the BWTF website to view all our sampling sites and water quality data.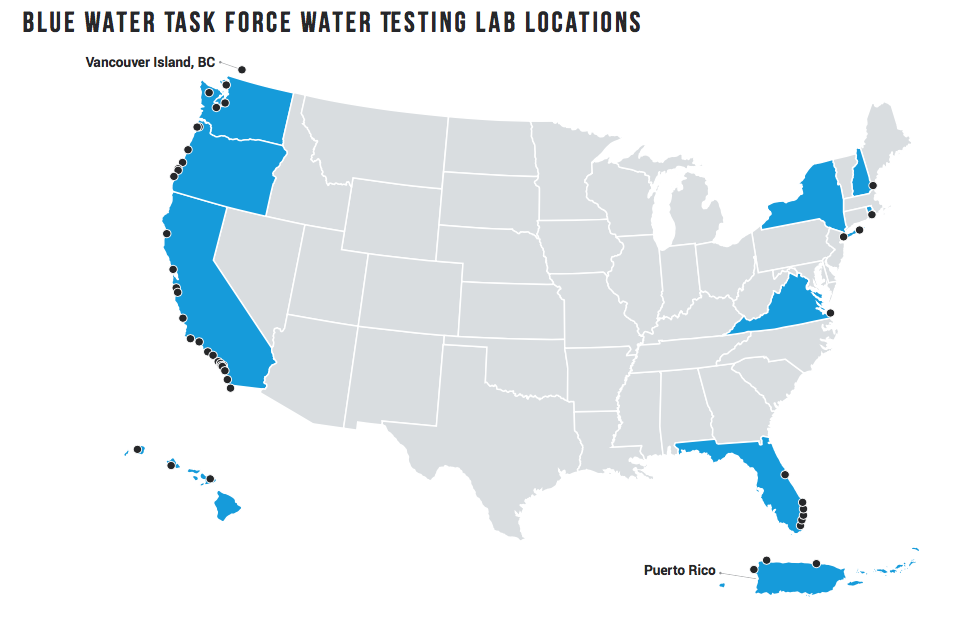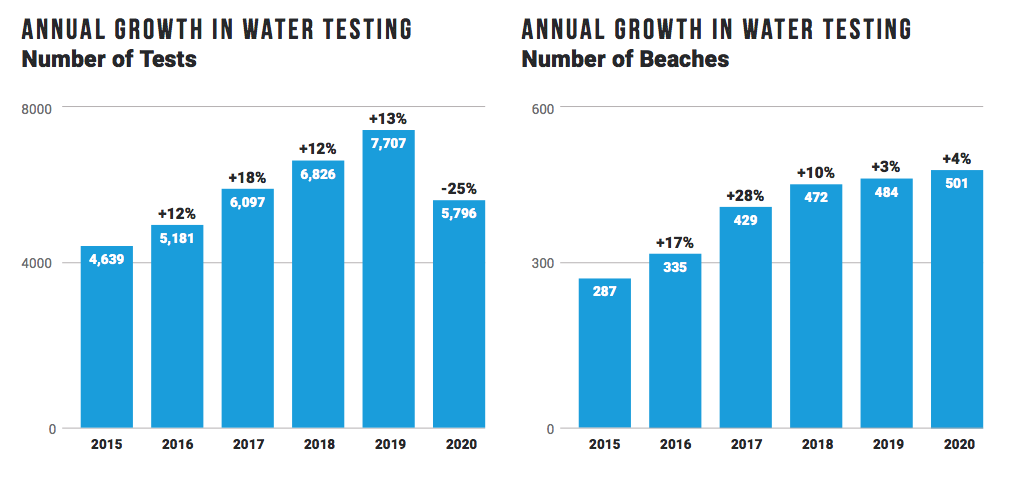 During 2020, 51 BWTF labs processed 5,796 water samples collected from 501 distinct sampling sites. While the Blue Water Task Force collected fewer samples in 2020 due to the COVID-related restrictions, the program continued to expand by covering more beaches.
Because many chapters use lab space hosted by other organizations, such as public high school science classes, university research labs, and public aquariums, many chapters lost access to their lab space during the pandemic and needed to find alternative lab space accessible to their volunteers. By the end of 2020, 34 out of our established 51 BWTF labs reopened. As of May 2021, 40 BWTF labs have started testing again, leaving less than ten programs still waiting to regain access to their lab space in schools and other public institutions.
Decades of neglect have left America's wastewater infrastructure in disrepair, outdated and failing. As a result, sewage spills and infrastructure failures release approximately 900 billion gallons of under-treated sewage into surface waters every year. Rising sea levels and more frequent extreme weather events brought on by climate change are going to make this situation even worse. To reverse course, the Surfrider Foundation is running a national campaign to urge Congress to make significant investments to prepare our coasts and water infrastructure to become more resilient for generations to come. Join us in our efforts here.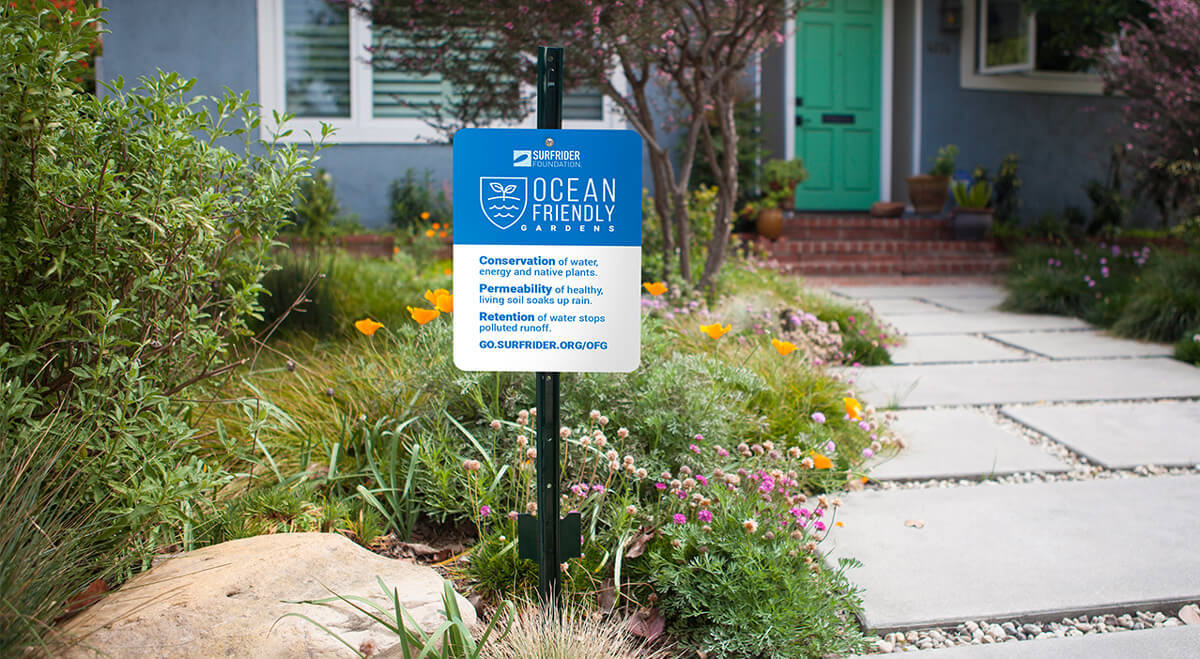 Ocean Friendly Gardens (OFG) is Surfrider's sustainable landscaping and education program that provides beautiful, inexpensive and natural solutions to water pollution caused by urban runoff. Chapters use this program to connect how we care for our yards and public spaces with the resulting health of our local waterways and beaches.
Because of health and safety considerations, chapters had to pivot last year from hosting in-person workshops to virtual meetings and webinars to educate their communities on how to make their yards more Ocean Friendly. The Miami Chapter also scored a clean water victory last year when the City of Miami Beach adopted new fertilizer restrictions.
The report also features the below case studies that tell the stories of how chapter leaders run their clean water campaigns and programs to protect public health, identify water quality concerns and bring together local communities to implement lasting solutions.
Access the full Clean Water Report to learn about how Surfrider activists protect public health and clean water at their local beaches.
Take Action Today.